"Empathy. Kindness. Compassion. Equal rights for all. Service to our neighbors. Generosity.
These are all values that our nation was founded on. We haven't always lived up to them, but we've never walked away from them before."
That was Former Vice President Joe Biden's message this weeeknd, one year into his campaign for President – now the presumptive Democratic nominee.
We all know the Coronavirus Pandemic has knocked this primary and election to the back-burner as the death toll topped 50,000 Americans this weekend and President Trump told reported that injesting disinfectants would help stop COVID-19. Yes – the President of the United States told millions of Americans to drink Bleach and Clorox. It is something out of a movie. That's why we are the-Contenders bring you the news in order to help defeat this unfit man.
In the final debate between Senator Bernie Sanders and Biden in March, Biden committed to a mixed gender ticket. If elected, Biden will have made history as the Vice President to the first African American President and helped elect the first female Vice President in history. Of course late Senator John McCain (AZ.) chose former governor of Alaska Sarah Palin as his running mate in 2008, a choice that ultimately doomed the Maverick's campaign & Hilary Clinton became the first woman nominated for either major party's (Republican or Democrat) Presidential ticket – both woman failed to break the elusive 'glass ceiling' that has been ready to crack for years.
However, woman candidates for public office have done incredibly well in the past 10 years, especially in the 2018 midterm elections, which saw the most diverse group of woman and individuals of color elected across the board and helping Rep. Nancy Pelosi (CA) retake the Speaker's Gavel as Speaker of the House. (Pelosi is the highest ranked woman in power in American history; the speaker is 3rd in line to the Presidency).
This pick for Biden is monumentally important. As we have covered here at The-Contenders, Biden has seen an impressive coalescing of the Democratic party behind him. There are many factors in a vice-president pick. Historically there are 4 important qualities that determine a running mate: Age, Geographical Region, name recognition and base/group support.
This week Senator Dick Durbin (IL.) said, "In short order Obama realized it was not only the right decision [picking Biden as VP], but the best decision he could have made. They developed a working relationship and I'll bet you a nickel that's what Biden's looking for, too. He needs somebody he can have good chemistry with."
For example, President Obama selecting Biden as his running mate to add years of experience and poise to the young Senator's (at the time) campaign. Biden can go several ways with his pick. If elected, Biden will be 78 on Inauguration day next January and has not committed to service 2 terms if elected. It is clear that if Biden wins and chooses to retire at age 82 in 2024 the Vice President becomes the automatic and presumptive nominee for the Democratic party.
So let's get into Biden's decisions. Biden currently leads President Trump in most polls in swing states (Michigan, Pennsylvania, Arizona, Florida, and Wisconsin).
Below is our list of logical and best fitting choices for Biden's running mate.
Let's start by ruling a few off the list:
Michelle Obama, Former First Lady: although this would most likely seal the election for Biden, a Biden-Obama ticket is not going to happen. If you read Mrs. Obama's wonderful book Becoming she clearly states she has no interest in politics and never has – despite marrying the would be 44th President. Michelle Obama is consistently the most popular and respected woman in the world – but becoming the Vice President is not in her future.
Oprah Winfrey, Philanthropist: Many people aren't universality known by one single named. Oprah is. The former actress-turned-talk-show-host-turned-billionaire philanthropist checks many boxes: That she can energize Democrats' African-American base, female membership, white men and that she's a celebrity. Rumors swirled in 2018 that she may run for the nomination and Bill Maher said, "Never underestimate the power of being in people's living rooms for decades. That's what got Trump elected," Maher said. "This is now an 'as seen on TV' country." However, Oprah has stated she is not interested in public office.
Non-Federal Government:
There are not many who crack this list, but the coronavirus pandemic has shifted most attention away from Washington and to the state and local levels.
Maybe Biden will shift to someone with a health care background? Maybe a local level leader like Atlanta Mayor Keisha Lance Bottoms would help. The Atlanta Mayor checks several boxes: age (she is 50); Geography: from a purple state in Georgia; and she is African America (Atlanta is one of the most diverse cities in the United States). She has also been in complete opposition of Governor Brian Kemp's re-opening of Georgia and has been a vocal critic. Her stock should be rising.
Let's stay in state to Stacey Abrams. The former Gubernatorial candidate for Governor of Georgia (and yes- she should be Governor now) has openly campaigned for the job. Abrams has described herself in interviews as an "excellent" pick for Biden, publicly gamed out how she would debate Vice President Mike Pence and argued why it would be a mistake not to pick a black woman like herself. She would come with age; geography; minority status. Her lack of experience is there – but she still has more experience that Trump had.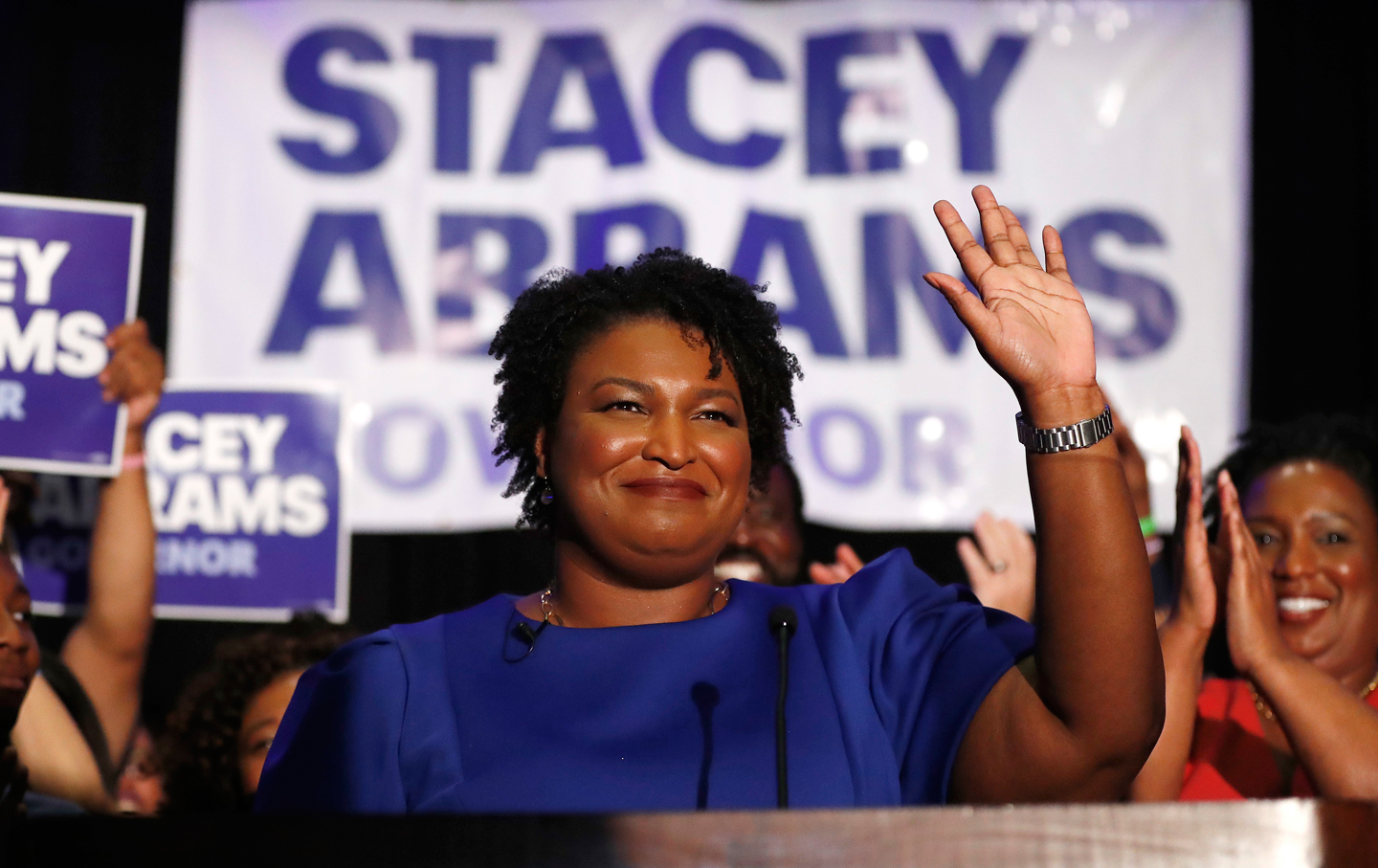 Governors:
Governor Gretchen Whitmer, MI:
The coronavirus has also put many state Governors on both sides in the spotlight. Those include the positively viewed Andrew Cuomo (NY); Larry Hogan (MD) and the negatively view Brian Kemp (GA); Ron DeSantis (FL). Somewhere in between is Gretchen Whitmer. She has been one of the most vocal critics of Trump's resposne to the pandemic and comes from a state (Michigan) that flipped from Obama to Trump in 2016. Elected to her first term in 2018, Whitmer and Biden have supposedly developed a nice friendship. Whitmer's strong dealing of the virus may shoot her up the board.
Governor Michelle Lujan Grisham, NM: Although she may not be amongst the most well known name nationally, the New Mexico governor is very qualified to serve as Biden's Vice President. She comes from a reliably blue state, is a former House member and chairwoman of the Congressional Hispanic caucus. As Governor of a Border State she could directly attack the Trump administration's controversial border policies. At 60 years old, and of Hispanic heritage, Gov. Lujan Grisham would be able to bring Hispanics – a group that favored Sen. Bernie Sanders in the primaries – to Biden.
Senators:
A few female senators will not make Biden's reported 13-15 short list.
The list of current female senators is actually pretty long. Currently 26 woman hold the office – compared to 57 all time (9 Republican and 17 Democrat). Every Democratic VP Nominee has been a Senator since the 1980s, including the former Senator from Delaware Joe Biden himself.
However, Democrats must be weary of losing a Senate seat in what will either be a small majority or minority. Giving up a Senate seat would be a tough pill to swallow if Democrats take back the Presidency and Senate in November.
The following Senators make sense as Biden's VP with some exceptions:
Senator Elizabeth Warren, MA.: Senator Warren is a firebrand politically savvy liberal that could help bring Biden a united ticket among the 2 wings of the party. She is immensely popular among Democrats and was seen as the front-runner for President all last summer. Warren's only downsides are her age (71.. although she has the energy of a 20 year old) which many are afraid of having two 70+ on the ticket. She also comes from Massachusetts – who's Governor Charlie Baker is a Republican (not a Trump Republican though) and would likely appoint a Republican to her seat until a Special Election is held. When asked by Rachel Maddow of MSNBC if she would accept the job if Biden offered… the answer: "YES"
Senator Tammy Baldwin, WI: Wisconsin's Democratic Senator would be a logical choice when it comes to Geography. Baldwin comes from a pure battleground state in the 2020 election – Wisconsin has voted for every eventual winner for decades (it swung from double Obama to Trump in 2016). Many believe Baldwin, the first openly gay person to serve in the Senate would help Biden carry this state. She won re-election in 2018 by 11 points. Her downside is the same as Warren – vacating a blue seat in a purple state. Governor Tony Evers of Wisconsin is a Democrat but serves with an increasingly hostile Republican legislature.
The following Senators would all be logical picks for Biden:
Sen. Catherine Cortez Masto, NV: As a Latina from a reliably Blue state, Cortez Masto would not cause a Senate risk as VP. Halfway through her first term as a Senator, the former Nevada Attorney General could help engage the Latino community. Nevada overwhelmingly supported Sen. Bernie Sanders in the primary, the question would be could Sen. Cortez Masto bring those Bernie Bros in for Biden?
Senator Amy Klobuchar, MN:
A former 2020 Contender who did Biden a big favor by dropping out before Super Tuesday and endorsing Biden. When she did that, many speculated that Biden had guaranteed her a cabinet position. Klobuchar gained national name recognition and respect for her campaign. Minnesota is a solidly blue state (although Republican think it is tipping) and Klobuchar is very popular. She ran her campaign as a moderate alternative to Sanders and Warren before moderates coalesced behind Biden. She argued often that winning in 2020 will go through the Midwest and she could help in Michigan, Wisconsin, Iowa.
Senator Tammy Duckworth, IL: The Senator currently sitting in President Obama's old Illinois Senate seat has an incredible story and past. She arguably checks more boxes than anyone else. She's a Purple Heart recipient who lost both of her legs in Iraq and was the first disabled woman elected to Congress. She also in 2018 became the first senator to give birth while in office. Senator Duckworth has a diverse background (Thai and Chinese). Illinois also is a reliably Democratic state so her appointment would be replaced by a Democrat.
Senator Kamala Harris, CA:
When Biden first announced his candidacy, many thought his logical choice to be VP would be Ms. Harris. However, after Harris' quick surge and sharp decline in the primary for her own campaign, the rumors circulated again. Harris comes from California, the blue-est state there is. She is currently the only African American woman who serves as a Governor or Senator. Her campaign for president made her a household name for her brand. Harris vehemently attacked Biden early in the campaign but the two have since campaigned together after Harris dropped out before Iowa. Harris demonstrated that she could be President during the campaign and Biden surely noticed.
Some great articles about Biden's VP choice:
https://www.cnn.com/2020/04/25/politics/biden-cabinet/index.html
https://www.cnn.com/2020/04/26/politics/stacey-abrams-joe-biden-2020-election/index.html
https://www.politico.com/news/2020/04/26/senate-democrats-biden-vice-president-207374?cid=apn
https://www.theguardian.com/us-news/2020/apr/26/joe-biden-running-mate-vice-president-democrats?CMP=oth_b-aplnews_d-1
https://www.huffpost.com/entry/joe-biden-vice-president-senate-majority_n_5ea4988dc5b6d37635909a90?ncid=APPLENEWS00001
https://www.bostonglobe.com/2020/04/22/metro/here-are-3-people-joe-biden-might-be-considering-more-his-vp-coronavirus-disrupts-american-life/